War Memorial & British Legion Centenary
July 24th: A small but poignant ceremony to mark the centenary of the Arundel War Memorial and the 100th anniversary of the British Legion. A chance to think back to 1921 when Arundel was coming to terms with the fact that some familiar faces would not be seen again.
Opening Arundel Festival of the Arts 2021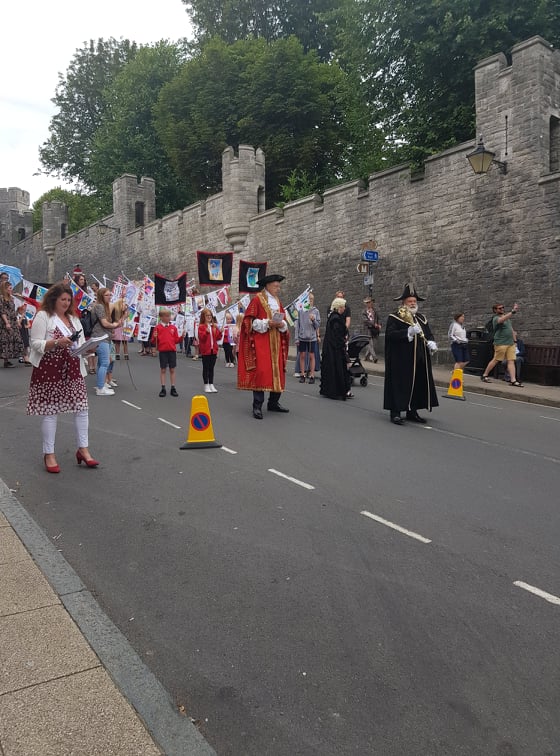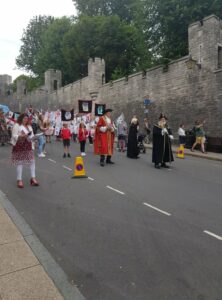 August 20th: The 45th Arundel Festival begins. The flags created by pupils from our primary schools look wonderful as they parade down the High Street. I present the prizes for the best flags and acknowledge the optimism of the Festival Committee who have been planning this since January when many people thought that a Festival would be impossible. Andrew Griffith MP attends and raises the Festival Flag.
Dedicating the Memorial Bench to Christopher Barret
August 21st: Christopher Barret's family attend and his daughter, Charlotte, travels up from Glastonbury. Charlotte tells me that not only was her father Head Gardener at Arundel Castle, but so were her grandfather and great grandfather. I dedicate the bench, and it is curiously moving event.
Opening the Pollinators Garden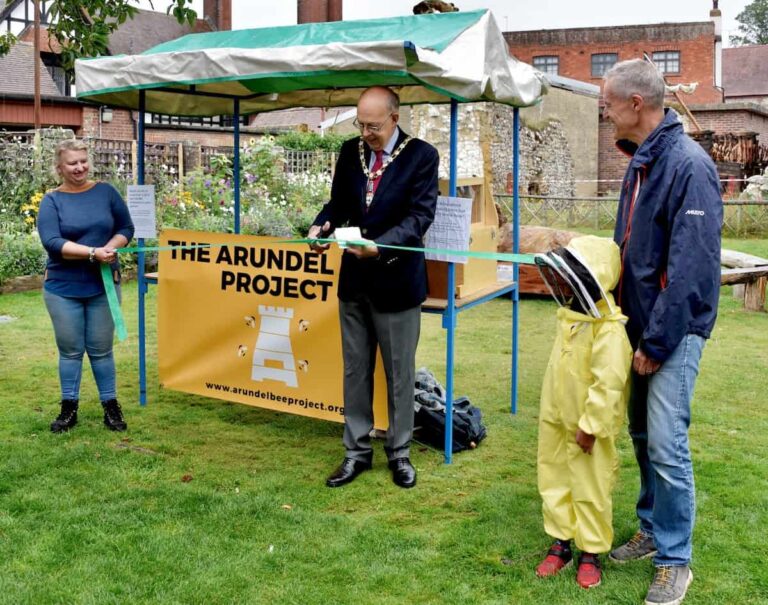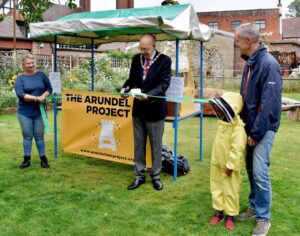 August 21st: The official opening of the Pollinators Garden, in drizzle. There is a young boy in a beekeeping suit, and a small glass-walled 'hive' so that you can see the bees at work. Press are in attendance and Nick Field was interviewed on the radio this morning. His vision of making Arundel the UK's first 'Bee Friendly Town' is slowly being realised despite the pandemic.
Sleepy Lagoon Orchestra at the Cathedral
August 26th: Sleepy Lagoon Orchestra put on their children's programme at the Cathedral. The flags are now displayed there, brightly coloured against the stonework. I present prizes to the children who perform, and so have the chance to say how wonderful it is to live in a town which attracts performers of the calibre of Sleepy Lagoon, which has schools that play such a large part in our community life and in which volunteers can stage such a Festival. I remind the audience that when planning began in January we were in lockdown, and many people said that we should cancel the 2021 Festival-thankfully the Festival Committee didn't and so we have this great event because of their determination and hard work. I pay tribute to Sharon Blaikie too, without whom this event would just not have happened this year. I suggest they begin planning the 2022 Festival first thing tomorrow.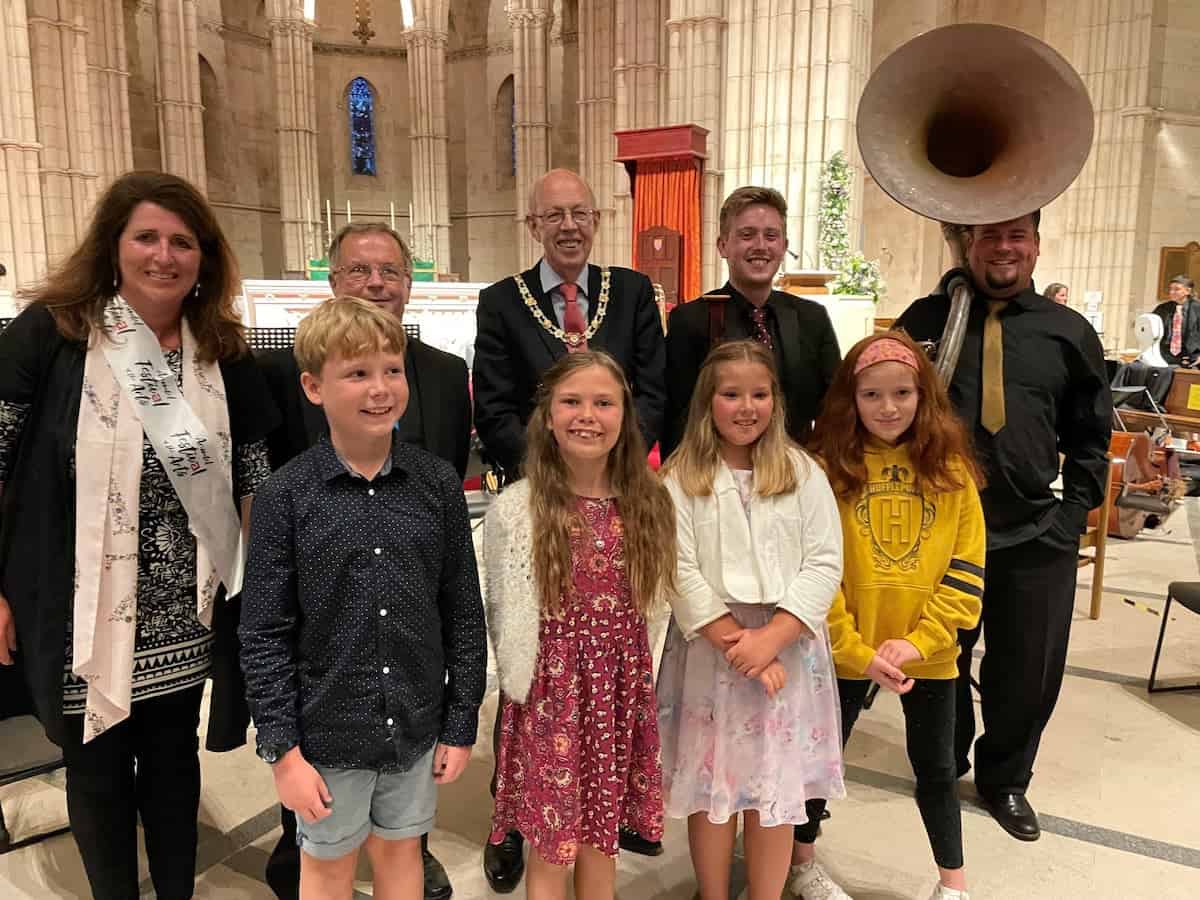 Our New Town Events Manager Starts
September 13th: New Town Events Manager, Tracy Clayton, arrives. Having been involved with the Arundel Players and Drip Action Theatre Company for many years, Tracy knows Arundel well and is keen to get started on organising events such as the Community Clean Up Day, Remembrance Parade and Community Awards.
Arundel-Ford Pathway Petition Event
October 1st: Brilliant event. Pupils from both Arundel primary schools have made striking placards, and show great confidence in presenting the petition boxes to Shaun Gunner, leader of Arun District Council, and to Joy Dennis, Cabinet Member for Highways at West Sussex County Council. Andrew Griffith MP attends. Joy, Shaun and Andrew all commit their personal support to the project.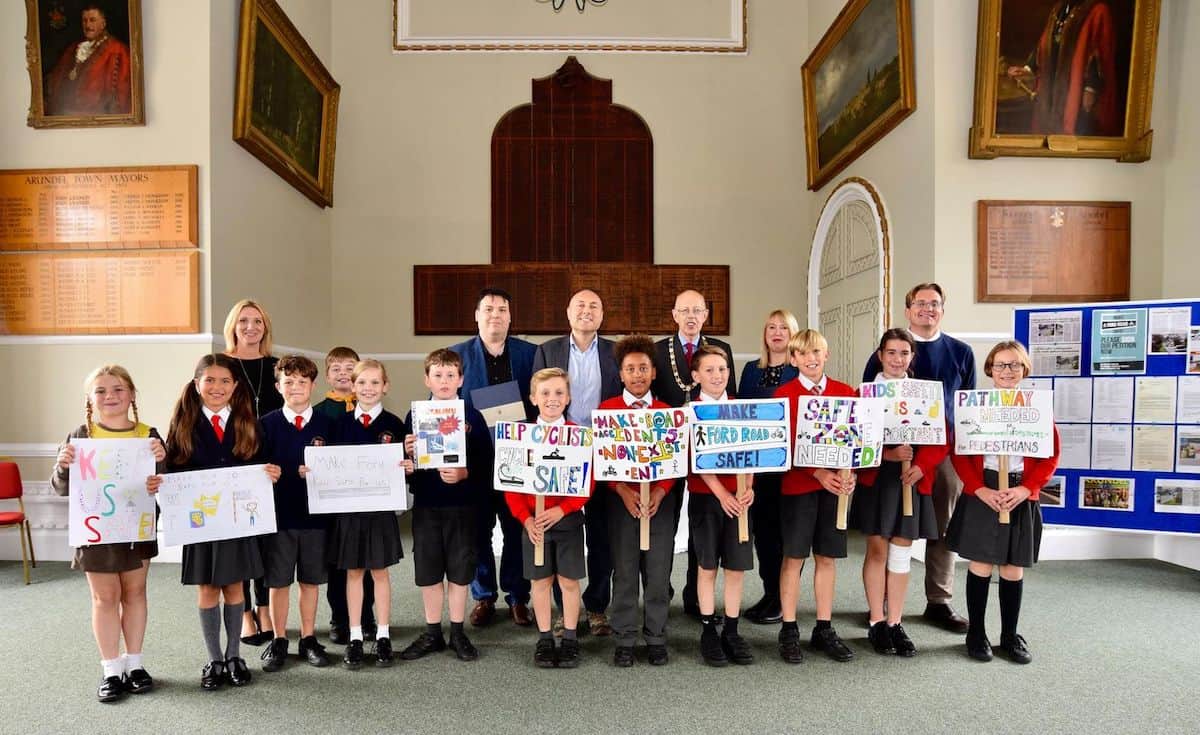 Mayor's Service
3rd October: Over 150 children take part, including the pupils from both primary schools and the Guides and Scouts. The children sing and read beautifully. Sharon Blaikie's solo and the choirs are excellent, Canon David Twinley and Fiona Maxwell powerfully describe the work of the two hundred Community Volunteers. The theme 'Our Arundel Community' comes through every part of the service. Canon David Twinley challenges Arundel to maintain
this community spirit post the pandemic, which enables me to speak about the latest community development, Elevenses, the Arundel dementia initiative, set up by Nikki Richardson and Jackey Burzio. The collection raises £250 for Elevenses in cash with more expected through bank transfers.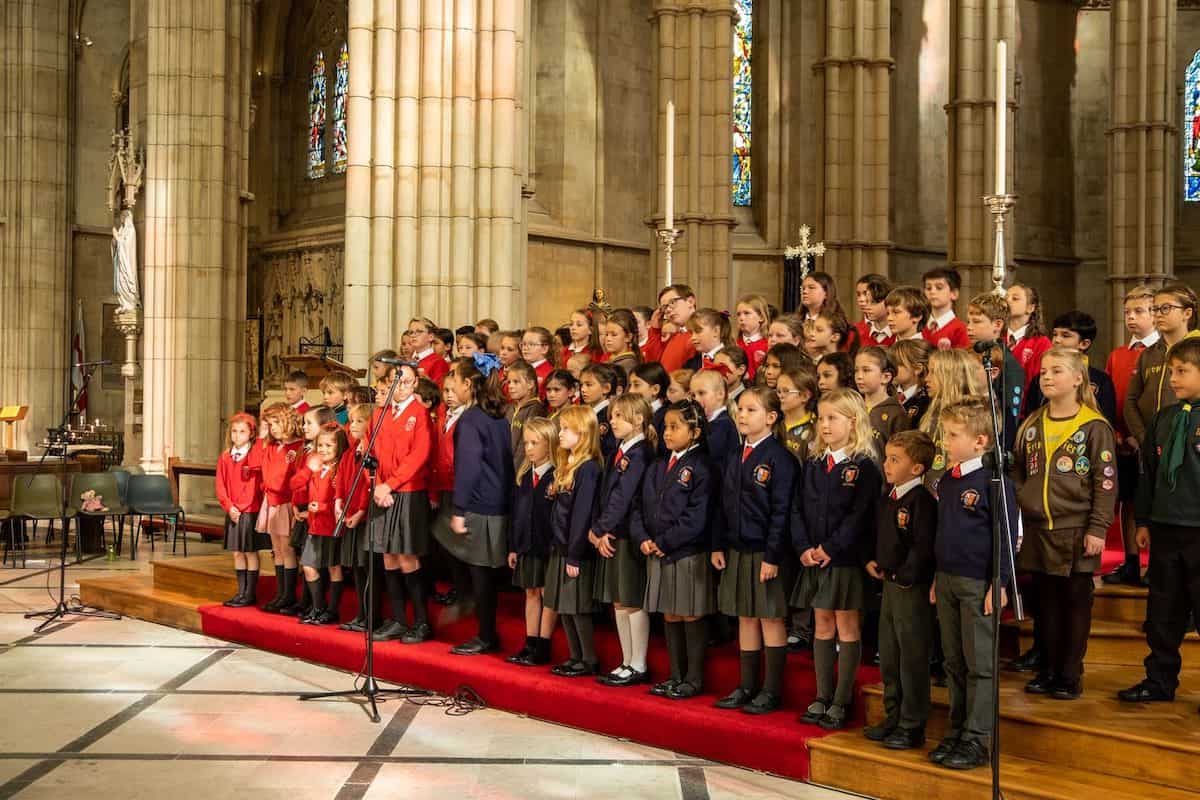 Farmers Market
October 12th: Arun District Council award us £20,000 in total to help us to acquire our own stalls for the Farmers Market. Adur District Council will not be able to rent the current stalls to us after October. The market has grown from 23 stalls to over 50 traders since the Town Council took it over in April 2020, and being able to buy fresh produce locally and speak to the suppliers directly has become very popular.
Climate Emergency
October 14th: Council declares a Climate Emergency. This is not just a gesture. As with the Covid pandemic, there are things that we can
do both in the Town Hall and working with other organisations that can make a difference locally. Interestingly, many of our existing projects -the Arundel-Ford pathway, the tree planting programme, the Bee Project and our Farmers Market-are climate change measures.
Andrew Griffith MP attends the Council Meeting and speaks of the challenges of being a Councillor and why the Council's work matters.
Grants
14th October: At this meeting we provide grants to the Arundel Lido, Lifecentre, Arun Community Transport, Arundel Chamber of Commerce (for their Christmas programme) and Arundel Gardens Association. All valuable for the community.
Assistant Tree Wardens
14th October: We appoint two assistants to support our Tree Warden Bob Tanner. Fiona Keating and Trevor Andrews will help advise our Planning Committee on all tree related planning applications in Arundel and work with Bob on the Arundel tree planting programme.
Elevenses
18th October: There are 40-50 attendees each week, and the Lido are laying a concrete base so that the group can remain in the marquee for the winter. I try to visit each week, and today I accidentally walked into and joined a dance class….
Autumn Community Clean Up Day
21st – 23rd October: Over 100 volunteers, including residents, school children, Councillors and MP Andrew Griffith, turn out to enthusiastically support Arundel's Autumn Community Clean Up. The event is spread over three days, with groups tackling different areas to keep our beautiful town of Arundel looking its best.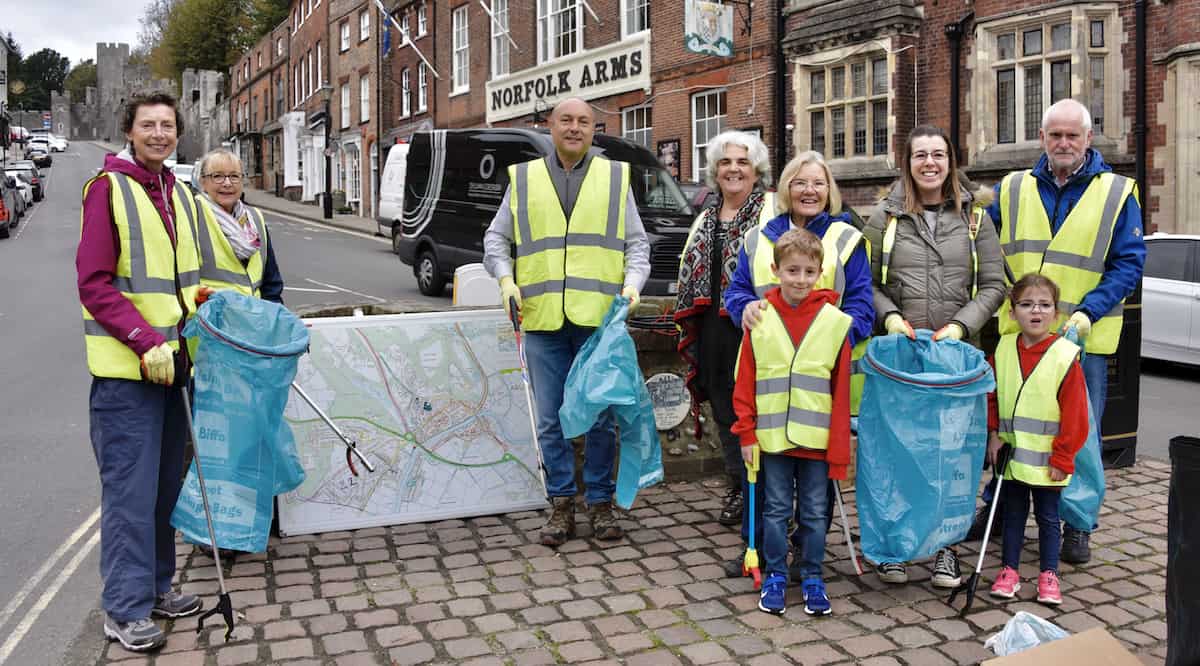 ARUNDEL TOWN COUNCIL
"The Town inspired by Heritage and Nature"