His early career was in property. He explains: 'Property generally was my passion in any shape or form, I had always wanted to specialise in estate management and had worked for a residential estate agency for a year before going to Kingston University to study Estate Management'. He joined Conrad Ritblat on their graduate scheme prior to becoming a Chartered Surveyor. His first move was to Baring Houston & Saunders, a subsidiary of Barings Bank which he joined when there were only a dozen or so employees and 7 years later there were over 50, split between New York and London.
This was followed by a long and happy career with property developer, The Berkeley Group plc, which lasted 15 years. Reporting direct to Chairman, Tony Pidgley, Andrew worked on both commercial property investment management and property development. He progressed through a variety of senior management roles culminating in Managing Director of Group Commercial Property in 2008. While there he was the company's General Partner representative on the Gunwharf Quays project in Portsmouth which was developed by Berkeley.
However, in 2009 his 'world at Berkeley ended abruptly as commercial property markets collapsed and the debt markets just froze completely (after the 2008 banking crisis).' 'So, I was looking for a fresh challenge. The property market was very difficult at that time, and I was looking at my transferrable skills. I thought about being a Bursar in an independent school and the second such opportunity that came up was one where I had spent 7 years as a pupil – King Edward's in Witley.' It was also where his father taught for 25 years, where Andrew and his sister both studied and two of Andrew's children also went there!
It was obviously meant to be. The move was a great success and Andrew stayed for over 11 years. 'The charity is very close to my heart – it's the Bridewell Royal Hospital Charity. It runs King Edward's School and since 2015 Barrow Hills, a prep school, as well. It does wonderful things for young people giving life changing opportunities – it's much more than just a school. To see the recruitment of pupils supported on huge bursaries – previously about 25% of pupils were on bursaries of between 80 and 100% – and then see those pupils flourish is very satisfying.'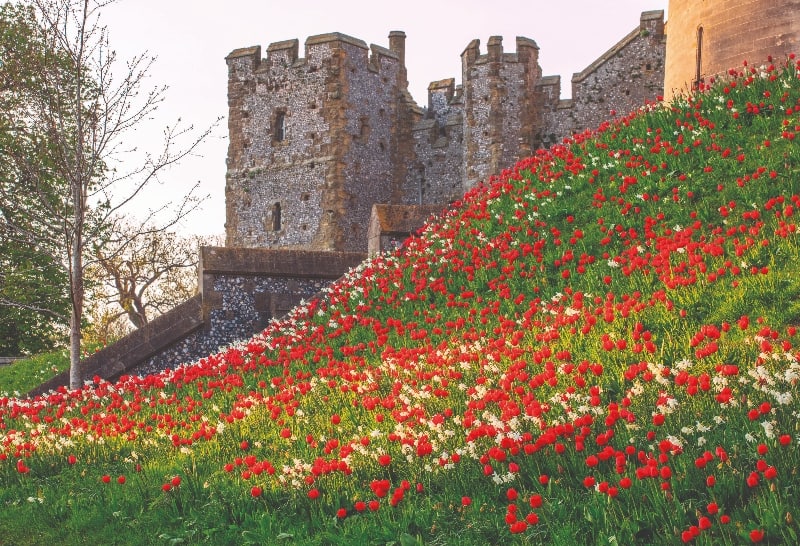 Photography by Martin Duncan
This role at Arundel Castle really stood out for him and he thinks that came over in his passion during the interview – 'I hope so! It more than met my definition of something different. The change of culture from business to education was huge but I don't see the same difference between education and managing a castle – there are a number of similarities. I used to say at the school that you run it like a business without it feeling like a business and in many ways, it is the same here'.
Three months in he now feels his expectations have been met. 'It's been a game of two halves. The first month we were preparing for opening and there was a general excitement around because the Castle hadn't been able to operate a full season since 2019. I thought that learning curve was steep, but since April 1st the Castle's been open and the learning curve has been exponential! And it's been thrilling to see so many people coming and sharing the Castle and the Tulip Festival'.
There's a large staff of over 100 during the open season and a great deal of operational challenges for him to manage. He reports directly to the Duke, with whom he has regular contact, plus there are three Trustees' meetings a year.
So, what are the challenges the Castle is facing? 'I think like any Charity it's establishing what's different in a post-Covid market – will the international visitors come back in great numbers? Will people choose to spend their holidays in different ways? We have to be dynamic and adapt to the markets.' Face masks are not compulsory for staff or visitors 'we are just trying to allow people to be comfortable in their own way.'
Andrew and his wife Sue will move to an Estate house, although he is commuting from near Guildford at the moment. They have three children – the eldest son is working towards being a Chartered tax accountant, his daughter graduated in 2020 and is working in interiors for Loaf and the youngest is in his second year at Exeter reading Economics. Sue works as Sales & Marketing Director, for a specialist care and special needs advice consultancy. He loves Arundel, everyone has been very welcoming 'and we're delighted to have the sea so close.'
With visitor numbers well up so far this year – the Tulip Festival and the Easter Holiday have all seen good numbers coming through the gates – it's to be hoped that continues. The good news for Arundel's traders is that the Castle gate in the High Street will remain open now, as Andrew says, 'it's a brilliant link with the Town'.