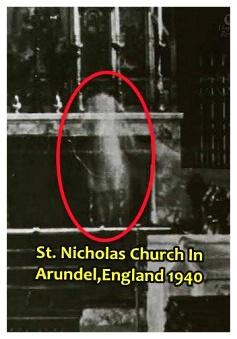 In St Nicholas Parish Church a phantom priest once appeared on a photograph, standing in front of the altar. A huge debate ensued. Was the photograph, taken by a local solicitor in the early 1940s, genuine proof of a ghost or trickery.
The image became very famous and was widely published but nobody has ever proved whether it is real or a fake. A ghostly nun has also been seen and heard walking in the bell tower, and a woman in blue has been spotted praying at the altar.
Pearson Road is just like any other quiet residential street, except that one house is home to a permanent ghost. A local gentleman and one of Arundel's Mullets How much do you really know about Arundel? was born in this house in Pearson Road, where his family had lived since it was built in the 1950s.
When he was a teenager, he awoke one night to see a figure next to his bed, dressed all in black with a bowler hat on his head and a fob watch chain on his waistcoat. The young man was too terrified to move and broke out in a cold sweat. The hairs stood up on his neck and he stared at the apparition for a few minutes. As his room was lit by the streetlight outside, he could make out the figure clearly. As it stepped forward with outstretched arms, the frightened young man shut his eyes. When he opened them the man in black was gone.
This ghostly encounter didn't put him off living in the house, which he later bought from the council. He, and his wife, have since seen the ghost many times, on the landing or standing at the bottom of the bed in another room. A nephew has even seen him in the garden. Builders who have worked on the house asked, "who is that bloke in the black outfit who wanders around?" The owner has discovered the house was built on woodland. No other building has stood on that spot. So, what do you make of this bowler hatted resident ghost? I think the answer is – whatever you wish.